Let me first get this out of my system…
FOOTY!  WORLD CUP 2010!  Pant!  Pant!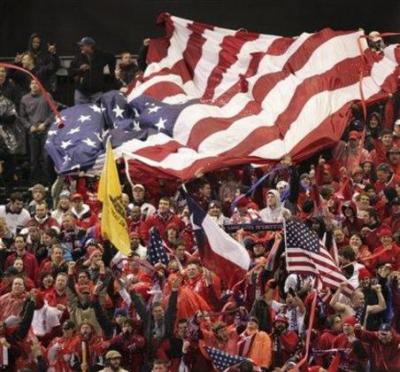 There I feel better now.  I love-love-love the World Cup.  It's like being a deer in rutting season every four years… hard to think of other things.  In fact, I should be coding right now, but, erm, I'm typing a stupid blog entry.  Ahem.
Now then, down to business!  We (USA) face England tomorrow in our first game.  Drama straight way!
The cold, calculating side of my brain says England 3 – 1 over USA.  Our back line is suspect and they won't be able to stop Rooney and 'beanpole' Crouch, especially with service from the likes of Gerrard and Lampard.  We'll give up too many set pieces and they'll convert them.
On the other hand:  Donovan, Dempsey and Altidore have proven they can rise to big occasions (see:  Confederations Cup, Everton loan, Fulham in EPL etc.) and they're not afraid to run at, well, better teams (see:  Spain, Brazil).  Plus we have Buddle who's on a hot streak and a natural scorer, and I like Torres and Gomez if they let them on the field tomorrow.  Youth & Speed, Youth and Speed… that could be the undoing of England tomorrow.  Did you watch the Stanley Cup final?  Patrick Kane is all of 21, they're in OT after a super hard-fought game 6 in Philly, and… the kid looks like he just laced up.  Youth & speed…
Yes I know about Lennon on the England side, but… Imagine there's no Lennon… it isn't hard to do…
We can win this game!  Come on you Yanks!
And if we don't, well I'll revert back to form and cheer for England as I normally do, being half English n'all.  Either way there's a cider in it for me tomorrow!