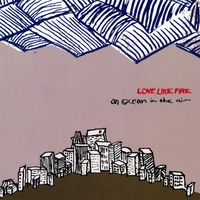 Autumn has always been music time for me, and as we're just back in the States I'm taking the opportunity to discover lots of good, regional music.
San Francisco's LoveLikeFire is a great start for me: Ann Yu's beautiful, ringing voice fills the tracks with naive and beautiful melody and she's ably-backed by a tight, no-nonsense band that knows how to rock a room (I can just see the crowd pogo-ing in place to the chorus of "Unlighted Shadow").
To be crystal clear, I don't think they're cutting new ground here -- it's just slightly dark, lovely power pop -- but it's quite good for what it is. A worthy release.
I've also picked up new discs by Portland's Charmparticles and Jonah as well as The Album Leaf -- but haven't made my mind up on those yet. Note: if you listen to the tracks at these links, you'll quickly see where my head is at right now... autumn is a dramatic time for me, always!
It also gives me an opportunity to support Portland-based CD Baby when buying music... damn them, they're so addictive and cheeky: I got the following email from them when I bought these discs:
Your CDs have been gently taken from our CD Baby shelves with
sterilized contamination-free gloves and placed onto a satin pillow.
A team of 50 employees inspected your CDs and polished them to make sure they were in the best possible condition before mailing.


Our packing specialist from Japan lit a candle and a hush fell over
the crowd as he put your CDs into the finest gold-lined box that money
can buy.


We all had a wonderful celebration afterwards and the whole party
marched down the street to the post office where the entire town of
Portland waved "Bon Voyage!" to your package, on its way to you, in
our private CD Baby jet on this day, Tuesday, October 2nd.


I hope you had a wonderful time shopping at CD Baby. We sure did.
Your picture is on our wall as "Customer of the Year." We're all
exhausted but can't wait for you to come back to

CDBABY.COM!!


Thank you, thank you, thank you!


Sigh...
Indeed :).